Discover more from The Analytics Engineering Roundup
The internet's most useful articles on analytics engineering and its adjacent ecosystem. Curated with ❤️ by Tristan Handy.
Over 23,000 subscribers
Data Science Roundup #68: Advice from Your Peers! Plus, AI Takes over Poker.
Share via Twitter | Share on Facebook | forward this email
Referred by a friend? Sign up.
Advice from Your Peers
Three amazing articles from current data science practitioners.
Ways I Reduce My Stress Around Science
If I say just trust me and I'm wrong, I'm untrustworthy. If I say here's my work and it's wrong, I'm honest, human, and serving scientific progress.
This post is something we all need to read. Every data practitioner is playing a critical role: you are paid money to decide for your organization what the truth is. This is a powerful role, but it's also a precarious one. Trust is critical, mistakes are inevitable, and disagreement with others in your organization is unavoidable. How do you conduct yourself in such a role?
This article is one of the most straightforward, honest takes on this subject I've ever read. Very highly recommended.
My Experience as a Freelance Data Scientist
Greg Reda, head of data @ GrubHub and then @ Sprout Social, shares his lessons learned from opening up his own data science consultancy. I obviously found this fascinating (I'm on the same ride right now!) but I wanted to share because I'm quite confident that there are many folks in this audience who have all of the skills needed to make the jump themselves.
If some small part of you is thinking about going down this road, this article is amazing.
New Year Resolutions for This Data Scientist in 2017
Yes! Ryan Rosario, a PhD candidate at UCLA, has published his resolutions. They're so good, in fact, that if you didn't make your own professional goals for 2017 yet, you should consider adopting (at least some of) these.
This Week's Top Data Science News
Each one of these articles mentions reinforcement / adversarial networks. The space is hot.
5 Big Predictions for Artificial Intelligence in 2017
Spoilers:
Reinforcement learning

Adversarial learning

China

Natural language processing

"Backlash against the hype"
I think the last one is silly, but couldn't agree more with #1-4. If you need to be convinced, please take the time and read.
www.technologyreview.com • Share
Poker Is the Latest Game to Fold Against Artificial Intelligence
Chess, then Jeopardy!, then go, and now…poker? What feels surprising about AI to domination in poker is the deception that is so deeply a part of the game. Researchers say that their program won specifically by "using an approximation approach that they compare to gut feeling." Fascinating.
DeepStack, which has now beaten many professional players in tens of thousands of hands, is, like AlphaGo, a GAN.
www.technologyreview.com • Share
4 Trends in Security Data Science for 2017
The security tech industry is tasked with the weighty responsibility of protecting the internet from bad actors in an environment where their number is growing incredibly quickly. These authors, including a senior analyst from Netflix, think that deep learning is going to play a significant role in threat detection in the coming year.
Data viz of the week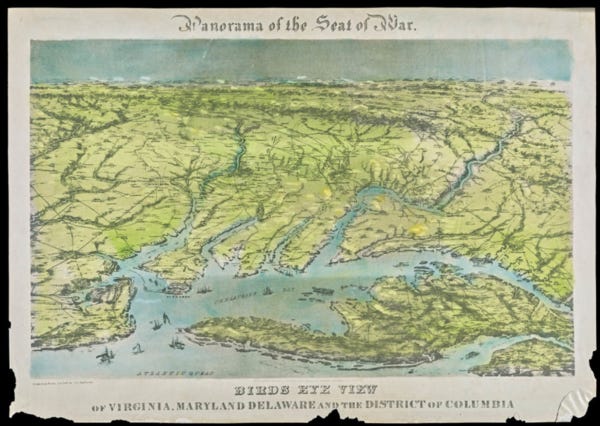 The Balloon Map: Cutting-edge data viz from 1785.
Thanks to our sponsors!
Fishtown Analytics: Analytics Consulting for Startups
Fishtown Analytics works with venture-funded startups to implement Redshift, BigQuery, Mode Analytics, and Looker. Want advanced analytics without needing to hire an entire data team? Let's chat.
Stitch: Simple, Powerful ETL Built for Developers
Developers shouldn't have to write ETL scripts. Consolidate your data in minutes. No API maintenance, scripting, cron jobs, or JSON wrangling required.
The internet's most useful data science articles. Curated with ❤️ by Tristan Handy.
If you don't want these updates anymore, please unsubscribe here.
If you were forwarded this newsletter and you like it, you can subscribe here.
Powered by Revue
915 Spring Garden St., Suite 500, Philadelphia, PA 19123