Discover more from The Analytics Engineering Roundup
The internet's most useful articles on analytics engineering and its adjacent ecosystem. Curated with ❤️ by Tristan Handy.
Over 23,000 subscribers
Teach yourself Machine Learning! Plus: breakthroughs in speech recognition and molecular simulation
Teach yourself machine learning! Plus: superforecasting @ Twitch and breakthroughs in speech recognition and molecular simulation.
Please take time to share: Share via Twitter | Share on Facebook
Referred by a friend? Sign up
Teach Yourself Machine Learning
This is perhaps my favorite "how I taught myself machine learning" post, specifically because it also highlights the author's failures. Learning ML isn't easy, especially for someone with a fairly light technical background, and learning from someone else's mistakes is invaluable. Read this.
📖 5 EBooks to Read Before Getting into Machine Learning
If you're just getting into the field it's daunting to know where to begin reading. This list is incredibly well-thought-out—the author feels like he's actually constructing a syllabus for the reader, starting with foundational theory and moving towards cutting-edge techniques. If you want to go (much) deeper, check out the just-published Deep Learning Papers Reading Roadmap.
Beginners looking to get into analytics and data science often want to "learn Python" or "get good at R". This is a bad way to frame your goal, as this article explains: "My advice is to stop thinking about your aptitude with R at all." Instead, find a problem you really want to solve and solve it. And if you're looking for problems to solve, start with Kaggle Open Datasets.
Department of Breakthroughs
🗣 Achieving Human Parity in Conversational Speech Recognition
Chalk up another win for AI: the folks at Microsoft Research just achieved better-than-human results in a classic speech recognition task. From the exec summary: "This marks the first time that human parity has been reported for conversational speech. The key to our system's performance is the systematic use of convolutional and LSTM neural networks."
⚛ Automatic chemical design using a data-driven continuous representation of molecules
Very cool: "We report a method to convert discrete representations of molecules to and from a multidimensional continuous representation. This generative model allows efficient search and optimization through open-ended spaces of chemical compounds." This is extremely important for pharma research.
Department of Unique Perspectives
Why I'm Teaching Twitch to Predict the Future
"If you devote 20 solid hours to predictions over the next 6 months; I'm 70% confident you'll evaluate yourself as being 10% better at predicting the future when you review your predictions." Drawing heavily off Superforecasting, this Twitch employee is on a crusade to teach his coworkers to better predict the future. Join him.
Data viz of the week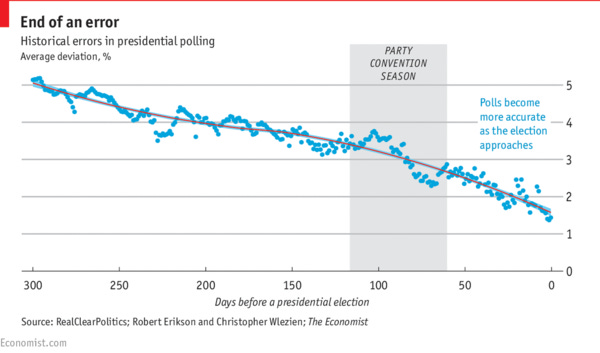 Note the takeaway embedded into the chart.
Thanks to our sponsors!
Fishtown Analytics: Analytics Consulting for Startups
Fishtown Analytics works with venture-funded startups to implement Redshift, BigQuery, Mode Analytics, and Looker. Want advanced analytics without needing to hire an entire data team? Let's chat.
Stitch: Simple, powerful ETL built for developers
Developers shouldn't have to write ETL scripts. Consolidate your data in minutes. No API maintenance, scripting, cron jobs, or JSON wrangling required.
The internet's most useful data science articles. Curated with ❤️ by Tristan Handy.
If you don't want these updates anymore, please unsubscribe here.
If you were forwarded this newsletter and you like it, you can subscribe here.
Powered by Revue
915 Spring Garden St., Suite 500, Philadelphia, PA 19123